Last week, the family and I went to Big Bear Lake to find some real snow. Unfortunately, the only real snow that we saw was left over from the week before, piled up on the side of the road, melting and full of dirt.
But that didn't stop us from having an amazing 4-day trip to the mountains!
We did pack for cold weather though, and I'm glad we did. Although it was sunny and the snow was melting, the cold was still present, and for us native San Diegans, we get a little spoiled with it comes to weather. If it's not between 70-80 degrees and sunny, we're wearing at least three layers of clothes.
Okay, maybe it's not that bad, but then again, maybe it is.
Anyway, our trip was full of fun adventures. Here are the highlights:
We Did Find Snow, But it Wasn't Real
We drove up to a couple of small resorts that did have man-made snow placed along big hills so that we could go tubing, and although the snow wasn't real, the fun definitely was.

Along the side of the hill, there's a people mover, so after you grab your tube, you just stand there and it takes you up the hill for you. All in all, a ton of fun!
Mining Adventures
We also took the kids to a fun place alongside Big Bear Lake Drive called Gold Rush Mining Adventures. It's an odd place, next door to an actual (but tiny) ghost town, and we actually went twice because the kids had so much fun.
There are different packages to choose from that would allow you to search or mine for different minerals and crystals. Geodes, pyrite (fools gold), and hundreds of other minerals and gems, it was a neat experience but honestly, a couple more years for our older one, and I think he would have thought it was a bit to "kiddy" for him.
The packages were a bit expensive, too, ($45 per kid for a bucket of sand that had the rocks in it), however in the end you ended up with a ziplock bag full of lots of different colored rocks and minerals. It probably cost nearly the same as buying all of them individually, but with the adventure included, and the many conversations about the experience with the kids afterward, it definitely was worth it.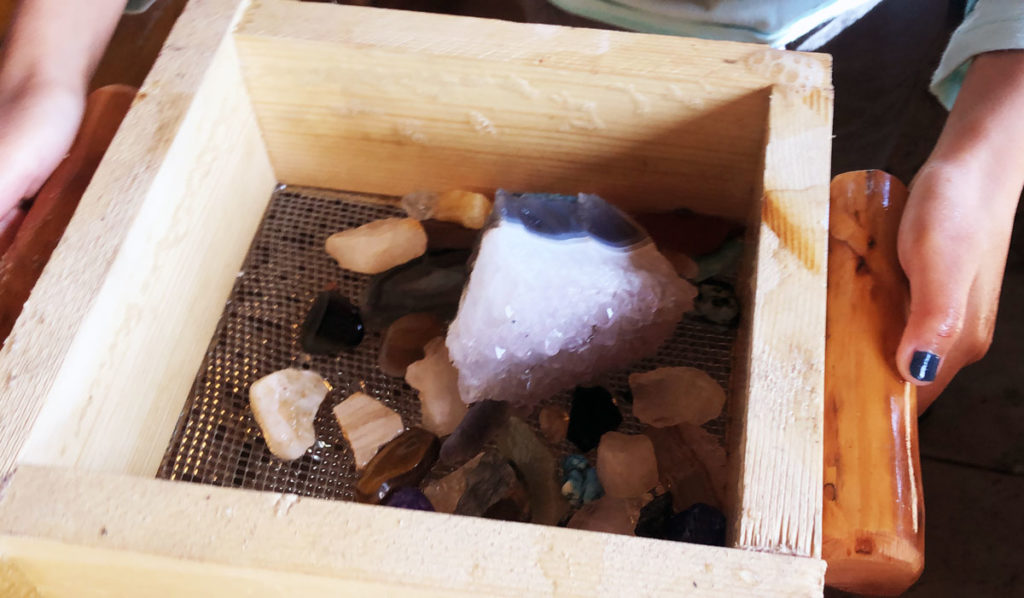 By the Fire…
The highlight of the trip was definitely an evening with some good friends of ours who happened to be in the area, too. They had a nice little camping site in the middle of nowhere, so it was good to escape civilization for a night and look up into the dark sky blanketed with loads of brightly colored stars while roasting smores and having amazing conversations about life, the kids, and the future.
It was great to slow down, pause, and just reflect a bit. I've been so busy with business, and April and the kids have been busy with school and activities, we've hardly had time to take a breath it seems.
But, it's important to do so every once in a while, and I'm glad we had this week off of school for an opportunity to have space to do that.
We definitely fell more in love with Big Bear this past week, we hope to come back soon. In the meantime, I'm extremely grateful that this retreat area for us is only a couple hours away from home. Part of the perks of living in SoCal – right next to the beach, but just a couple hours away from the snow, and even when there's no snow, there's still a lot of fun to be had, and time to breath in life and gratitude.
Here's to family times, memories made, and more adventures down the road.