I had two tests within 12 hours. One of these tests was more important to me than the other.
It was a week before Christmas break and I had just turned 16 years old. The calculus final I was pretty confident about, and I snuck in one more practice test before it was time to put in the real work: two hours of practice before my tryouts for one of the most popular Quake 2 Clans on the Internet.
Quake 2 was my favorite video game at the time. It's a cooperative first-person shooter game on the PC that was fast-paced with lots of cool weapons and the best 3D graphics of any game during its time.
There were lots of gameplay modes, but my all-time favorite was CTF (capture the flag), Rail-Gun only. The Rail-Gun was the most powerful weapon in the game, one where you could annihilate your opponent with just one precise shot, but you had to aim just right. With the players I was playing with, they were so good that when you miss, you die.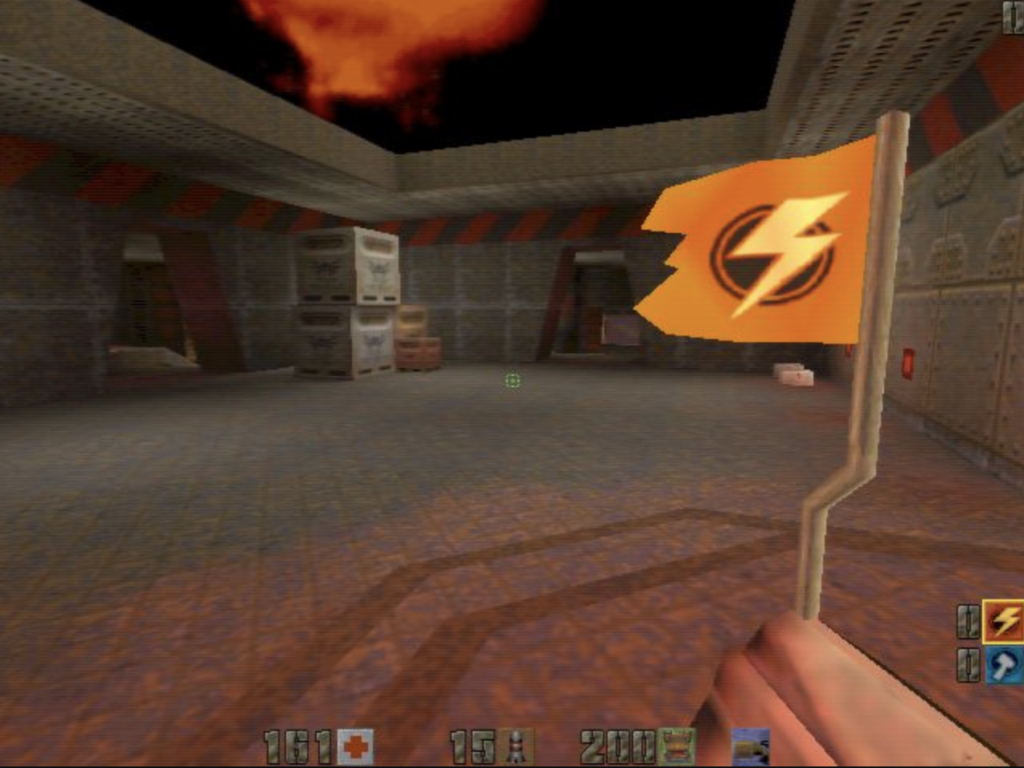 It was sort of like the Golden-Gun-only mode in 007 on the Nintendo64, but even better. Yeah, it was that fun.
Tryouts were at 10:30pm. I stayed up late quite a bit to play games, sometimes without my parents knowing.
After saying good night, I raced to my room, closed the door and fired up my Pentium III 1.3 GHZ computer and logged into Quake 2 with my brand new cable Internet connection. Thankfully, it was working well that night. That wasn't always the case.
I joined a hardcore server I knew about where I could get some good practice in before 5 members of this clan would battle me, 1 v 1 each, to see if I had what it takes to become one of them.
I had to beat 3 of them to even be considered to join the team, however if I beat the leader, that would weigh more heavily.
No one used their real name in the game. The leader's name and alias was DaMackaRoni. Mine was (don't laugh), relevant to my game style – slippery and hard to get a grasp on. So naturally, my alias was LubriCANT.
They found me playing in a match randomly one day and invited me to come scrimmage with them. They were pretty impressed with my gameplay so they continued to let me know when their practices were held so I could come and help the team train.
It was so much fun. I'd often hear about their previous week's battles against other popular clans, and I started to feel like I was part of the team, although I was still just there to help.
Even though we didn't have voice chat enabled (it didn't exist in video games yet), through the words typed in the console during the game, I got to know him, and the other clan members really well. They each had their own personalities, and the leader, DaMackaRoni, was definitely well respected and knew exactly how to manage a team.
I'd never seen anything like it. A virtual team, similar to the soccer team I was on, but two difference: this team was online, and I was actually pretty good.
One day, DaMack asked me if I wasted to join the team officially, and I said sure, but I couldn't just join straight away. I had to try out, just like everyone else did.
And that's how we got to 10pm, a week before Christmas break.
Tryouts
The rules were simple: grab the other team's flag, take it back to your base and touch it with your flag and you score a point. If your flag is gone, someone better go get it. If your opponent grabs your flag, try to railgun them so they drop the flag. When it's dropped, touch it, and it automatically returns to base.
For tryouts, first to 5 captures wins.
When playing with a team, the strategy is all about who does what job. One person is the flag runner, usually two flag defenders, and a couple more players act as backup and rotation in case anyone with a key position dies. When it's 1 v 1, however, like during my tryouts, it's a completely different ball game. You're the runner, and the defender, and all the things in between, and if you get railed and respawn at your base, it's tough to reset knowing your opponent is making progress somewhere else on the map.
I loved every minute of it, but this time I was nervous. Tryouts were about to start.
I lost the first match, 3 to 5 . But the second match I crushed one of the members (probably embarrassing him a little in the process) taking 5 captures to his one.
Then, I battled DaMackaRoni, the team leader, who I think wanted to ensure I knew this team was good after I put a beat down on one of his players, and he beat me in a pretty lop-sided game, 2 to 5. I was down 1 game to 3, and had to win my last two to qualify.
Thankfully, I won the next two games and won 3 matches in total, qualifying me for consideration. The decision wouldn't be made until the next day, so after the battle, I went to bed – but I couldn't go to sleep right away. I was too excited. And, I totally forgot I had a math test, so I stayed up until 2am taking one more pass at a practice exam, just in case.
The Next Day
At school, I kept the clan thing a secret from my friends. I wasn't sure if they would think it was "cool" or not, so I just kept it to myself.
The math test went well, there were only a few problems that tripped me up a bit, but I was more concerned about the results of my other test – the tryouts. So when I got home, I logged into the server and found just a couple members practicing. No sign of DaMack.
I asked them if they knew if I was in or not, but they said they couldn't tell me, and to wait for DaMack to sign in. Within an hour, he came in and caught me and the guys working on some coordinated moves.
"Lube. You're in. We have practice tonight at 9, and then a match tomorrow at 8. Let me know if you can make it, if not, I'll have someone else take your spot."
Straight and to the point. Of course, I said yes, and that's how I became a member of a Quake 2 Clan.
Those were some of my best memories from high school. Having gotten picked on a lot in school for being the smallest kid in the entire class (I didn't pass 5 feet tall until my junior year), I found refuge in only two places. One, the marching band (where my saving grace was the fact that everyone was meant to blend into each other – plus, we were all super nerds anyway and could all related to each other in that way), and two, Quake 2, where I had some skill, and was recognized for it.
I quickly rose in the ranks of the Clan. I started out on the B team, but was later promoted to A team, and then co-captain for a lot of matches, too. I led practices and scrimmages, and even had a chance to help recruit a few other members, too.
Then, Quake 3 came out. The graphics were even better and the gameplay was even faster, but the clan was split between moving up to Quake 3, or just sticking on Quake 2, which in my opinion was a better gameplay experience and more fun.
So, without all of the messy details, the clan decided to split into a Quake 2 division, and a Quake 3 division. We went on to win a couple more tournaments that were independently hosted, but whether it was because the team was split between 2 and 3, or people got bored (or people, like me went to college and focused on new things), the team eventually disbanded.
I've tried to look for any mention of the team or members of the clan on the Internet, but there's no record of our clan or anyone that matched any member name I remember online.
I learned a lot about camaraderie being a part of that clan. We all stuck up for each other. We won together. We lost together. We trained to get better together, and saw results from the hours of work we put in every night.
I think my dad knew what I was doing, although he never really asked. He walked into my room a couple nights when I started yelling at the computer way past my bed time (probably after a massive win, or a terrible loss – raging out while gaming is a real thing, people), and never told me I was wasting my time or being dumb or I should study instead. I got my schoolwork done and kept my grades high, so I guess as long as that was happening, I wasn't hurting anything.
It wasn't until I got to college and in my junior year of college I got introduced to WoW (World of Warcraft), and legitimately saw my grades fall a bit because of that. Thankfully, I was grown up enough to delete the game after my first set of bad grades and re-focus on school work. That game was fun too though – a bit too fun.
Games are awesome. They provide learning experiences, and with the ability for us to play with each other, it provides a social life, too. It was a little more taboo to have friends online that you didn't know IRL (in real life) back in the day, but today, it's more common than ever.
I'm thankful for the opportunity to have joined this clan, and honestly, writing this post brought back some amazing memories, and I'm hopeful you have your own set of weird memories from when you were a kid you can reflect back on, too.
If you're a gamer, too, I hope we can play something together and have some fun in the future, too. Cheers!